You have a business and looking for a website builder tool that can ease your website building process?
Well, You are in right place.
In fact, I use this service for many of my clients and they are happy now.
In this article, we are going to share the GetResponse website builder tool that will make your work easy. It will help you in building a beautiful website on your own by just knowing the type of your business.
Apart from tool introduction, we will create a beautiful website as well through GetResponse builder.
So before we proceed, let us check what
Best In GetResponse Website Builder:
1. AI Powerd Website Creation Tool:
GetResponse website builder tool uses artificial intelligence technology to build the website as per your business type.
This tool asks some basic questions from users about their business type, company, style and creates a beautiful website according to your answers.
Here is a screenshot of AI Tool Questions:
As seen in the screenshot, you just need to select a few questions and your website is ready.
2. Do it yourself website:
Users can create a website of their own by using pre-designed templates. You can change theme color, add blocks, change fonts, and do many more things on your own.
You get a Drag and drop editor through which you can create some unique pages for your website.
In my view, it can be a complete package for website design.
3. Design Simplicity: 
No more tension about plugins, Stock images, and coding. With the GetResponse website builder tool, you get seamless integration with a major sock photo website so that you get all premium images for free. Apart from these, you no need to add plugins and worry about a slow website.
With this tool, you will get a fully responsive website that will work properly with almost all types of screen sizes. Before making it live for the public, you can preview it on all screen sizes and can make changes according to that.
4. Built-In Website PopUps: 
To retain users and make them end customers, we use popups. unlike other platforms, where you need addons or plugins to make it possible, here you get it free built-in website popup.
Through this website popup, you can showcase your special offers, collect emails and promote your premium service easily without irritating your users.
Their popup comes with different settings and customizations connect with free email marketing tools.
5. Complete Website Solution: 
No need to worry about hosting charges, domain renewal charges, and email tool charges, you will get all these things free with the GetResponse website builder.
So if you are looking for a complete website solution in a single place, this one is right for you. Apart from these, to enable security to your website, you can add an SSL Certificate as well from their panel without hiring any developer or designer.
6. Search Engine Optimization: 
Search engine optimization is a very important part of a business to grow. It enables your business website to rank in search engine and help you in getting organic business.
It gives you all premium things for free with the website builder tool. You can manage search engine crawling, meta descriptions, title tags, and URL slugs from this tool easily.
7. Analytics: 
With the website builder tool, you get a fully customized analytics tool. With the help of this tool, you can check where your traffic comes from, location, behavior, and popup submissions.
You can set a custom date range and check how your business is growing.
8. All In One Platform: 
No need to worry about other marketing tools that help you in retaining your users and growing your business. With GetResponse you will get all marketing tools in a single place.
With the website builder tool, you have to focus on products, not a website and digital marketing tools.
You find it interesting,
Great.
But what is the cost?
Pricing:
The whole bundle of GetResponse website builders starts from $15/month. That is much low as you get too many things in this simple bundle.
Here is the full pricing of GetResponse Website Builder:
Offer: Try GetResponse today with 30 days free trial. 
Let we start with creating our first website with the GetResponse website builder tool and check how it works.
follow these simple steps and do according to your business needs.
1. First of all, Click on this link and visit the GetResponse Landing page to preview it there all its features and benefits.
2. Now click on, Create a free account.
3. Enter your name, email id and create a password.
Once your account is created, you will get an email for confirmation about your account.
Nice, you have completed the account creation process successfully.
Also, you get free 30 days trial from GetResponse to test their service. To test the service for the next 30 days and if you will satisfy, go with paid service ($15/month).
Now Lets us move further and create a page with their AI machine algorithm.
For demo purposes, I just select Training as my business type and Educational as the type of website which I want to build.
After completing your selection, simply click on the Next step button and it will suggest you some more functionality and designs for your website.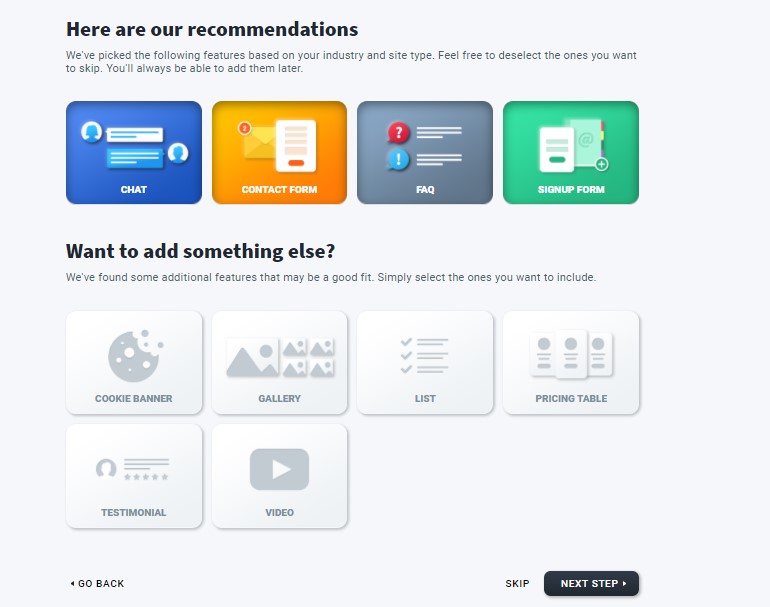 As seen in the above screenshot, simply choose what more functionality you want to add to your business website.
Once you are done with this functionality, click on the next step button and choose a design for your blog.
Now, its time to preview our website, but before,
Add Logo
Business Name
Description About your business
Keep ready these things. Without main content, the design will look incomplete. So once you are done with these steps, click on the preview button and check how your website looks like.
If you are not happy with the custom design given by AI, try to edit with a drag and drop builder.
Make changes and publish your business website once you have done.
So how was your experience, Do comment in the comment box.
You can comment about any alternatives as well so that we can share more valuable tools with our premium customers.
If you like this review, do share this article with your friends on your social media platforms.
If you find GetResponse valuable( As it is), Do join via this link and get 30 days free trial of there all your services. (No credit Card Needed).