Top Google ranking means more business and that's why check ranking in Google is very important. Website google ranking gives an idea about how much effort we need to take a good google ranking.
Well, to check rank in google, we need google rank checker.
This article will guide you on how to check ranking on google. Also, we will add some google rank checker tools to make your task easy.
So let's start.
Well, before we start, let me share some points about google ranking:
Google ranking is a very important part
Always select proper keyword
Check the ranking of your keywords regularly
Also Read: Free Business Leads Guide
Best Google Rank Checker Tools:
Well, To increase our website ranking on the required keyword, We must need to understand that what is our current ranking on the search engine. For this purpose, we can use many keywords ranking tools, which we are going to share here.
1. Google Webmaster tool:
One of the best, free, and authority google keyword rank checker tool. Easy to use and free keyword tracking with any limitations. Also, this tool helps you with many scenarios.
How to use Google Webmaster tool:
1. Visit Search Console
2. Select property for which you want to check keyword ranking.
3. Click on Open Report Button

4. Here you will see a full report about your website, how it performing on google, Its average position, Total users in the last 3 months, and the total impression you site generate on google.
Click on "New" Button.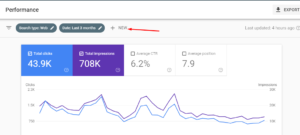 5. Here you will see 5 more options to filter your report. You can filter according to Query, Page, Country, Device and search appearance.
Now to check keyword ranking select Query.
6. Enter query(Keyword).
Now it will show your full report. Check on which keyword what is your google ranking. As this report is from google, There is a full authenticity of your report.
2. Accurankchecker:
Easy to start and easy interference makes it a more handful keyword ranking tool. You can track your keyword ranking without any hassle. Its a dedicated paid keyword rank tracker tool. If you are running an agency, this tool will help you more.
Through Accuranker, You can generate keyword reports for your clients. The best part is you can track rank on Google, Yahoo, and Bing index.
Accurenker provides many cool features like filter keyword report as per Country wise. you can track more than one keyword at a single time.
Try Accurenaker Free Trial Here.
3. Semrush:
One of the best keywords tracking and research tool.
Simple post any blog URL, and it will generate keywords and there ranking. With this tool, you will get backlinks info too. By processing further, you will get competitions and keyword values too.
Its keyword value process clears your goal that if you westing your time or not.
You can track google rank and bing rank as well. You can filter your keywords as per geographical information.
Some of the best points
Keyword Competitions
Keyword value
Geographical information
Accuracy in results
Competitor ranking information
Semrush is fully available for a free trial and if you like it you can process further for paid as well. I will recommend using the free trial at least.
How to use Semrush: 
1. Visit Semrush and enter your details, Try Free Here
2. Verify you email id
3. Now visit the dashboard and enter URL for keyword rank tracking.
4. Once you enter your URL, It will show the full report there.
5. Scroll down, and you will get a keyword report for the preferred domain.
Semrush shows you more reports than any other tool. You can also set a weekly notification email so that Semrush sends you a full report on mail too.
Well, there are lots of more tools available. But these are enough if you are just looking for a check Ranking in google.
If you think that this post helped you in anyhow, Please share it on your social media post.