So you are looking for an anonymous email account where your identity is fully anonymous and secure. Your search for how to create an anonymous email account will go end here.
Yes, we are living in the digital era and this time our identity is the main business of many online Ventures.
They stole our identity and sell it to other vendors. Now it's over the responsibility that makes our identity secure. But how we can be secure while doing tasks online.
Well in this article we are going to share some of the best methods through which you can be fully anonymous and secure while doing any task online.
Also, we will tell you how you can create an anonymous email account where no need to attach your mobile number, no need for your name, address, or your IP.
On this platform, you can easily create an anonymous email ID with your password and can access it at any time, anywhere.
The best part of this tool is, this tool is highly professional. When you send emails through this platform they will not go into the spam folder at all.
So wondering the name of this anonymous email tool.
This is protonmail.
Yes, protonmail is one of the best highly secure anonymous email id providers.
They do not use any data in any form to sell it. So that your information can be secured and your data will be private.
Also, we will re-command that if you are looking for an anonymous solution then you must use tor browser.
Why We need Anonymus email account:
For Secure internet
To keep our data secure
To be safe from hackers
Many More
So let us start.
How To Create Ann Anonymous E-mail account with protonmail.com.
1. To create an anonymous email ID visit protonmail.com.
2. Now click on create an account button (Signup Button).
3. Simply enter any name that you want to give your email ID and choose your email address.
4. Now enter your password, please choose a highly secure password.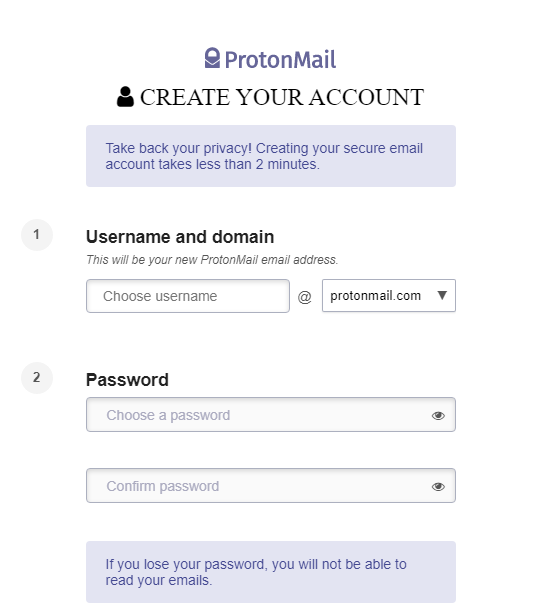 5. Your anonymous email ID is ready to use. You can use this email ID for normal uses or for any professional experience.
So if you like this tutorial, on how to create an anonymous email ID, please do share this article with your all friends and help them to go anonymous.
If you have any questions regarding anonymous email id creation please do comment in the comment box and we will definitely reply to your comment.
Thanks.
Take care of yourself and your lovely ones.