NASA( National Aeronautics and Space Administration) , an research organization is now ready to send your name to mars. Now its your chance to take the proper action.
Before to know, let we collect some information about this mission.
In this mission NASA invites public to post there name to mars. This process is to be launched in early july 2020.
As we get ready to launch this historic Mars mission, we want everyone to share in this journey of exploration," Thomas Zurbuchen, associate administrator for NASA's Science Mission
What is last date to submit name for MARS :-
From now, You can send your name to NASA to mail on MARS.
So start from today onwards and be lucky one to be send name on MARS.
Well, in this article we will guide you with instruction to post your name to mars.
Keep an eye :– Share location via QR code
Also Check: Instagram Reels Downloader
Send your name to MARS :-
Follow these simple steps to complete your dream by mail your name to mars.
1. Click on this link to visit MARS mission name page.
2. Now,  fill your details like first name, last name, country, postal code and email address. And click on "SEND MY NAME TO MARS" button.
3. Now it will look like this.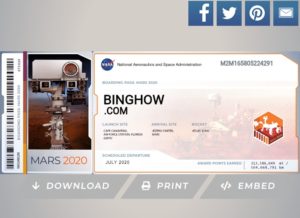 4. Now here is 3 options which you can select. Yoi can download, print or embed the code on your blog.
5. There is no need to verify your email address, but if your name is selected they will contact you by mail. So it is necessary to chosse your right email address here.
These are the basic steps to send your favourite name to Mars. I hope you like this post. If you think that this article can help your friends too,  please share it with your friends. Your sharing will help us to provide you such type of valuable content regularly.